Thursday, October 04, 2012
A tutorial about how to create different interesting hover effects on circles with CSS
transitions
and 3D rotations.
Wednesday, October 03, 2012
A
responsive
3D menu concept for a restaurant website. The idea is to show the menu as a folded flyer and unfold it in order to show the menu items.
Wednesday, September 26, 2012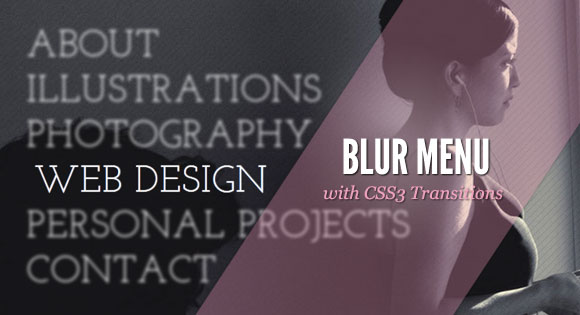 There are so many great things we can do with the additional properties and possibilities that
CSS3
brings along. Today I want to show you how to experiment with text shadows and with
transitions
in order to achieve a blur effect that we'll apply to a
menu
on hovering over the elements. The main idea is to blur the other items while enhancing the one we are currently hovering.
Friday, September 21, 2012
In recent articles I've shown how to create cross-browser image
filter effects
with
CSS
and
SVG
:
converting color photographs to black and white
and
sepia-tone
, as well as
blurring
them. The next obvious step is to animate these effects.
Monday, September 17, 2012
Today I would like to show you how to create a little component with a realistic touch. The idea is based on the sweet paper effect found in the video of the
Google Developer Stories
. Maybe you have created these kind of paper effects when you were a kid; basically something opens or rotates when pulling or pushing some handle.
Monday, September 17, 2012
If you've been reading up on the latest in
CSS
-related techniques and tips, then there's no doubt that you've probably come across articles, blog posts, and tutorials of all sorts that have covered the topic of CSS3
transitions
, which allows
property changes in CSS values to occur smoothly over a specified duration
. The module in the W3C specification that covers
CSS3 transitions
is now close to attaining Candidate Recommendation status, which means that this is a CSS3 technique that is now a staple in the toolbox of many modern CSS developers.